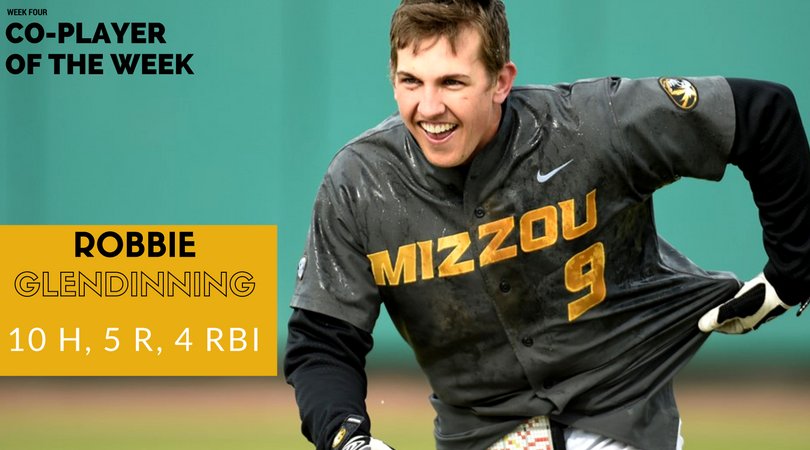 15-1 for the Tigers is the best start Missouri has ever seen from its' baseball program. Robbie Glendinning, a Missouri Top 10 prospect, certainly took a role last week in helping that streak stay alive.
Two walk off hits in a season some would say is pretty remarkable, but two walk off hits in one week is hinting in the conversation of unthinkable. Unthinkable in two ways, one Glendinning would simply have to be at the plate in a walk off situation twice and two he would actually have to win the game in walk off fashion twice.
Glendinning came through for the Tigers last week as he hit a solid .476 with five runs, four RBI, two doubles, a triple and a homerun. He now is in the top three in the SEC in batting average (.429) and the Tigers sit at 15-1 with 2 non-conference games left with Chicago State before they open up SEC play against Alabama.
I said at the beginning of the year Missouri was my preseason number 1 team in the state of Missouri at the Division 1 level that was quickly changed with the emergence of a well built rotation and lineup from Missouri State. However, 15 wins in a row does help the Tigers case for a return to the top spot.
A big weekend verse Alabama will have the Tigers scratching at the Bears of Missouri State.
My Division 1 Rankings for Missouri:
                                                                     Division 1
Rank
Team
2017 Record
Last Week Results
Previous Rank
1
Missouri St.
12-3
2-2
1
2
Missouri
15-1
5-0
2
3
St. Louis
13-2
3-1
4
4
Southeast Mo St.
6-7
0-3
3