Just about a month has  past since we heard the names of many young baseball players called to begin their pro careers. The major league baseball draft took place this year between the dates of June 9th through June 11th. Forty rounds of drafting took place in 3 days, farm systems were replenished and projections began.
This year the state of Missouri had a decent size pool taken in the MLB draft. Twenty-three players were selected from the show me state.  The Midwest as a whole was generous to teams this year with 2 first rounders going at #4 in Riley Pint (Colorado Rockies) and at #40 Joey Wentz (Atlanta Braves), both players however coming out of the state of Kansas.
Missouri was led by a Senior sign in Joseph Lucchesi of Southeast Missouri State. Lucchesi kicks off my recap of the players selected out of the State of Missouri: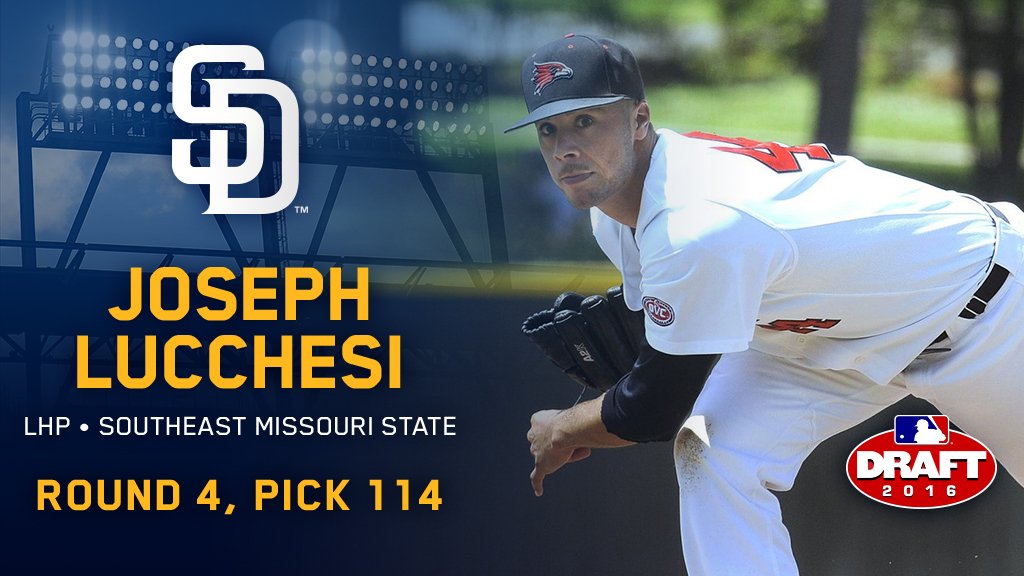 Round 3-10
Round 4 Pick 114: Pick Value ($521,200) 
Joseph Lucchesi – 6'4 – 220 – LHP – Southeast Missouri State. (San Diego Padres)
Lucchesi started off the drafted players out of the show me state and was well deserved in being the state's top selection. Lucchesi led the nation in strikeouts (149) in 111 innings pitched and was named the Division 1 pitcher of the year this past year after going undrafted as a junior. Lucchesi came to Semo in the 2015 season as a junior following 2 seasons of pitching at a California junior college.
Lucchesi will work with some funk and deception from the left side with a fastball that will sit 90-93 and the makings of what could be a plus curveball.
Round 5 Pick 143: Pick Value ($394,100)
Sam Perez – 6'3 – 210 – RHP – Missouri State (Florida Marlins)
Perez is an interesting arm to say the least. He put together 91 innings on the season, but did not start a single game. 36 appearances tallied by the right hander helped him accumulate 112 k's and an era at 2.86. I'd be curious to see if he becomes a SP at the next level.
Round 5 Pick 155: Pick Value ($350,900)
Ryan Howard – 6'2 -180- SS – Missouri (San Francisco Giants)
Howard is a local to St. Charles, graduating from Francis Howell Central. This year makes the second year in a row Howard has been drafted after being marked as a draft eligible sophomore. Howard has an incredible work ethic. A mid-season freshman starter for the University of Missouri turned into a full-time starter at 3B and then moving to full-time Shortstop.
Round 11-40
Round 11 Pick 333 
Tyler Benninghoff – 6'4 – 180 – RHP – Rockhurt H.S. (Minnesota Twins)
Good Fastball with movement. Decent off speed stuff. Benninghoff hit the radar as a sophomore in high school. Since being drafted he is headed to have tommy john surgery which was a well known fact to the Twins prior to Benninghoff being taken. Benninghoff has a very high ceiling, twins got a great kid in the 11th round.
Round 16 Pick 486
Keith Grieshaber – 6'1 – 168 – SS – Jefferson College (Los Angeles Angels)
Grieshaber can run, run, run and run some more. He led Jeffco this year in stolen bases and will be a force on the pro base path. I am not sure if he stays at SS, but 2B could become his new home.
Round 16 Pick 487
Spencer Johnson – 6'4 – 200 – LF – Missouri State (Houston Astros)
The Astros like bats with serious power. Johnson certainly can provide the power. The Leftfielder led Missouri State this year with 24 homeruns.
Round 21 Pick 645
Matt Eckelman – 6'4 – 240 – RHP – St. Louis University (Pittsburgh Pirates)
Eckelman was SLU's top starting pitcher this year with a 9-4 record and a 3.12 era. Eckelman, also, created some SLU history as his selection marked the 4th straight year SLU has had a player drafted in the first year player draft.
Round 22 Pick 664
Sterling Sharp – 6'4 – 180 – RHP – Drury University (Washington Nationals)
Sharp has a good projection with his size and frame. Sharp made 18 appearances on the year for Drury and struck out 43.
Round 24 Pick 721
Zach Matson – 6'3 – 225 – LHP – Crowder College (Baltimore Orioles)
Matson is a LHP with a physical frame to with stand long term work. FB sits upper 80's touching low 90's. Matson's offspeed is still a work in progress, but in just 2 years at the Junior College level Matson improved dramatically.
Round 25 Pick 754
Branden Boggetto – 6'0 – 190 – SS – Southeast Missouri State (Washington Nationals)
The senior shortstop. Boggetto, batted .339 this past spring while driving in 61 which was first on the team and ranked in the top 50 in the nation.
Round 29 Pick 883
Gavin Grant – 6'2 – 235 – RHP – University of Central Missouri (Kansas City Royals)
Grant was the Mules 2016 closer. Grant locked up 13 saves and 35 strikeouts in 30 and 2/3 innings.
Round 29 Pick 885
Geoff Hartlieb – 6'6′ – 210 – RHP – Lindenwood University (Pittsburgh Pirates)
Hartlieb has one of the highest ceilings among all Missouri players drafted. Standing at 6 foot 6 inches and has been clocked at 96 with a plus slider when it's on, Hartlieb could be a major bullpen asset to a major league team someday if he can get some consistency with his offspeed.
Round 31 Pick 931
Jake Ring – 5'10 – 170 – CF – Missouri (Baltimore Orioles)
Ring is one of my favorites among the Missouri players drafted, not so much for his ceiling, but for his makeup. Ring came into the University of Missouri maybe weighing 150, two years later he's put on 20 more pounds and is driving the ball. I think he stays in CF, but will need the bat to play more for him to rise through the ranks.
Round 31 Pick 946
Jonathan "JD" Murders – 6'2 – 180 – 2B – Bolivar H.S. (St. Louis Cardinals)
Murders was one of the interesting stories. Played at a smaller school in southern Missouri. Murders can flat hit. He committed to play for the Texas Tech Red Raiders as a sophomore in High School and I am confident he will hit in the big 12 or at the pro level. Murders is rumored to be signing a contract to start pro ball soon with the birds. (7/11/16 update)
Round 33 Pick 1003
Kameron Misner – 6'4 – 205 – OF – Poplar Bluff H.S. (Kansas City Royals)
Misner will be a name we hear again in 3 years if he chooses to by pass the Royals offer. Signed to play his college ball at Mizzou in the SEC will most likely be where he ends up. Tall Lefthanded bat who can both pitch and swing it. He will certainly help the Tigers under coach newly hired coach Steve Bieser.
Round 34 Pick 1030
Anthony Herron – 6'2 – 195 – RHP – Jefferson College (New York Mets)
This is Herron's 2nd time being drafted in his career and he could return for a possible 3rd or 4th. Herron drafted originally by the St. Louis Cardinals out of High school and now here in 2016 by the Mets. If Herron by passes this draft he will be pitching next spring at Missouri State.
Round 34 Pick 1033
Nathan Webb – 6'2 -215 – RHP – Lee's Summit North H.S. (Kansas City Royals)
Webb was originally set to attend the University of Central Missouri, but with a great spring the Royals took a flyer on the big Right Hander. Webb will be an interesting arm to watch as he develops.
Round 35 Pick 1053
Austin Tribby – 6'5 – 225 – LHP – Missouri (Minnesota Twins)
Tribby was a tall lefty out of the Tigers pen last year with a few spot starts here and there. Tribby k'd 54 bats in 52 and 1/3 innings this past spring.
Round 36 Pick 1096
Robbie Gordon – 6'2 – 205 – RHP – Maryville University (St. Louis Cardinals)
Gordon put Maryville on the map in a huge way going in the 36th round this past month. Gordon had 57 strikeouts in 61 innings with a 3.98 era. Gordon finished the season with a 4-4 record and 2 saves.
Round 39 Pick 1172
Pedro Alfonseca – 6'0 – 178 – CF – North Kansas City H.S. (Cleveland Indians)
Alfonseca a late pick by the Indians is expected to continue on to Black Hawk College where he will play his junior college baseball.
Round 40 Pick 1207
Lucas Williams – 6'3 – 195 – RHP – University of Central Missouri (Houston Astros)
Williams was another strong arm for the Mules this past season. Williams struckout 42 in 45 innings while only walking 14.
I've listed the summation of how many Missouri picks each MLB team selected. Please give me a quick comment or follow me up on Twitter! Would love to talk some baseball with you!
San Diego Padres : 1          Los Angeles Angels : 1      Houston Astros : 2
Miami Marlins : 1              Pittsburgh Pirates : 2   Washington Nationals : 2
San Francisco Giants : 1  Baltimore Orioles : 2     Kansas City Royals : 3
Minnesota Twins : 2         St. Louis Cardinals : 2   New York Mets : 1